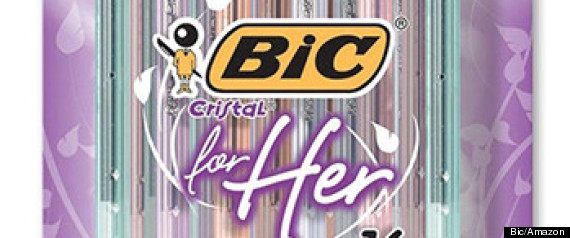 Bic Attempts to Market to Women
Here we go again.  Bic is taking quite a hit for its "Bic Cristal For Her" pens.  Shocking that a company of this magnitude doesn't understand how to market to women.  With women influencing 85% of all consumer purchase decisions, why is it that marketers won't take the time to truly understand this important audience, and put the time into building authentic relationships with them?
The Public Reacts to Bic's "Cristal For Her" Pens
Women (and men) have been mocking the pens on Amazon.com and Twitter. Below are just a few examples:
"Oh my goodness – where have these been all my life? My hands are tiny, delicate and perfectly formed. I have to admit that they're more suited to activities such as petit point and kitten stroking than writing; in short, they are nothing like a man's fat, hairy mitt. Up until now I've spent countless hours sobbing that there was no writing implement designed especially for ME. I haven't actually tried one of these BIC beauties yet as they're just so adorable all I want to go is gaze at them and lick the pink one from time to time."  
"We're all joking about this, naturally (a woman using a pen – ridiculous!), but this could have serious implications. What's next, ladies attending universities? Pens to encourage literacy in the lower orders? The modern world is a mad place indeed."
"I allowed my wife to write the grocery list with one of my pens. Shortly thereafter she went out and bought a bunch of flannel shirts, cut the sleeves off and grew a mullet. While she was writing her feminist manifesto, I secretly switched out the man pen with a BiC For Her. She's now back to baking apple pies, vacuuming in heels, and popping bennies in order to keep her girlish figure… like a proper American gal." 
"I had my man read me the packaging details because it was so beautiful I just HAD to know what was inside. I discovered that it contained something I did not ever believe possible. A pen. For me! Now I just need some pastel coloured books so I can learn to read and I'll be able to use them to write by myself. At last! Thank you, thank you bic. My womb is throbbing at the very thought of holding such a thing! My husband says before long I'll be able to write my very own shopping lists and cake recipes."
"Someone has answered my gentle prayers and FINALLY designed a pen that I can use all month long! I use it when I'm swimming, riding a horse, walking on the beach and doing yoga. It's comfortable, leak-proof, non-slip and it makes me feel so feminine and pretty! … 
And here's a great blog post from LikeARollingStone featured on Huffington Post:
Bic Boss: Jenkins, get in here!
Jenkins: Yes sir.
Bic Boss: I'm thinking we need to go after the female market.
Jenkins: Excuse me?
Bic Boss: Women consumers, man! Women do most of the buying in this country so we need pens just for women.
Jenkins: What's wrong with our regular pens?
Bic Boss: Aren't you listening? Women want womanly things — pink and purple and flowery and… I don't know… what are you doing?
Jenkins: Just writing this all down — pink, purple, flowery. Ooooh, diamonds. Women like diamonds.
Bic Boss: That's good. Work diamonds in there somehow. Only not real diamonds. Just make them diamondy.
Jenkins: Diamondy, right. Anything else?
Bic Boss: Let me think. What does my wife like? Hmmm, cleaning. She loves to clean. No, that doesn't help. Uh, she's reading some book about gray shades. Make sure one of the pens writes in gray.
Jenkins: Shade of gray, got it. Should the other pens write in pink?
Bic Boss: Good grief no. We don't want to be condescending.
Reaching women more effectively can require some extra effort by marketers – but in the long run it is so worth it.