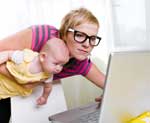 Using Social Media to Market to Moms
With nearly 40 million U.S. moms online, they are one of the Internet's most desirable groups.  New communities and content sites marketing to moms continue to pop up daily. Social media marketers and advertisers are constantly trying to reach this powerful group, who are not just strong in number, but in purchasing power as well. Although many attempts have been made to use Web 2.0 tools to engage mothers, only a few have been successful. The key to success lies in the approach. Here are a few tips to help you attract and engage moms online.
Do Your Research: Social Media Marketing Takes Work
In addition to being strong online shoppers, moms also spend a great deal of time researching health information, banking, watching video, and even playing games online. Moms are on Twitter, Facebook, and even social bookmarking sites like Digg and Delicious. They also are reading and writing blogs.  But not all moms are created equal, and their online usage patterns vary depending on their life stage (new moms, young moms, moms of teenagers, etc.), geographical location, and interests. So it's important to do your research because the more you understand the audience and how they are currently using the Internet, the more you can create campaigns and utilize tools that will interest and attract moms.
A Key to Successful Social Media Marketing: Make It Easy
If you're trying to reach out to mothers, you're not alone.  A recent Google search for "moms online" yields over 25,400,000 results.  So make it easy for them to find you and engage with you, by keeping your content fresh and providing user-friendly tools.
Good Housekeeping is an example of a website that skillfully balances traditional and user generated content, as well as user-friendly tools. Not only does the site offer a wide variety of articles and interactive tools, but it also provides a user-generated element with their "On Your Mind" question and answer community, where moms can interact with one another as well as with experts.
A mistake many websites make is requiring mothers to register before gaining access to content or part of a site. Moms are busy and they have a lot of options on the Internet. High drop-off rates occur when making them register, so only require registration if it's absolutely necessary and even then limit how much you ask of them.
No One Likes a One-Way Conversation on Social Media
Many social media marketing campaigns aimed at engaging moms fail because they're talking "at" moms – it feels too much like advertising. Create added value by providing information that is both useful and interesting. Then, provide the tools that allow moms to interact not only with your brand, but with each other. Listen to their feedback and make changes accordingly.
What tips do you have for reaching moms more effectively?