By the time TikTok burst on the U.S. scene in 2017, it already had a following due to its first iteration as an app called Musical.ly. Since then, it has overcome a long list of problems—including increased pressure from legislators and copycat features from long-standing social media giants—to become one of America's fastest-growing social media companies.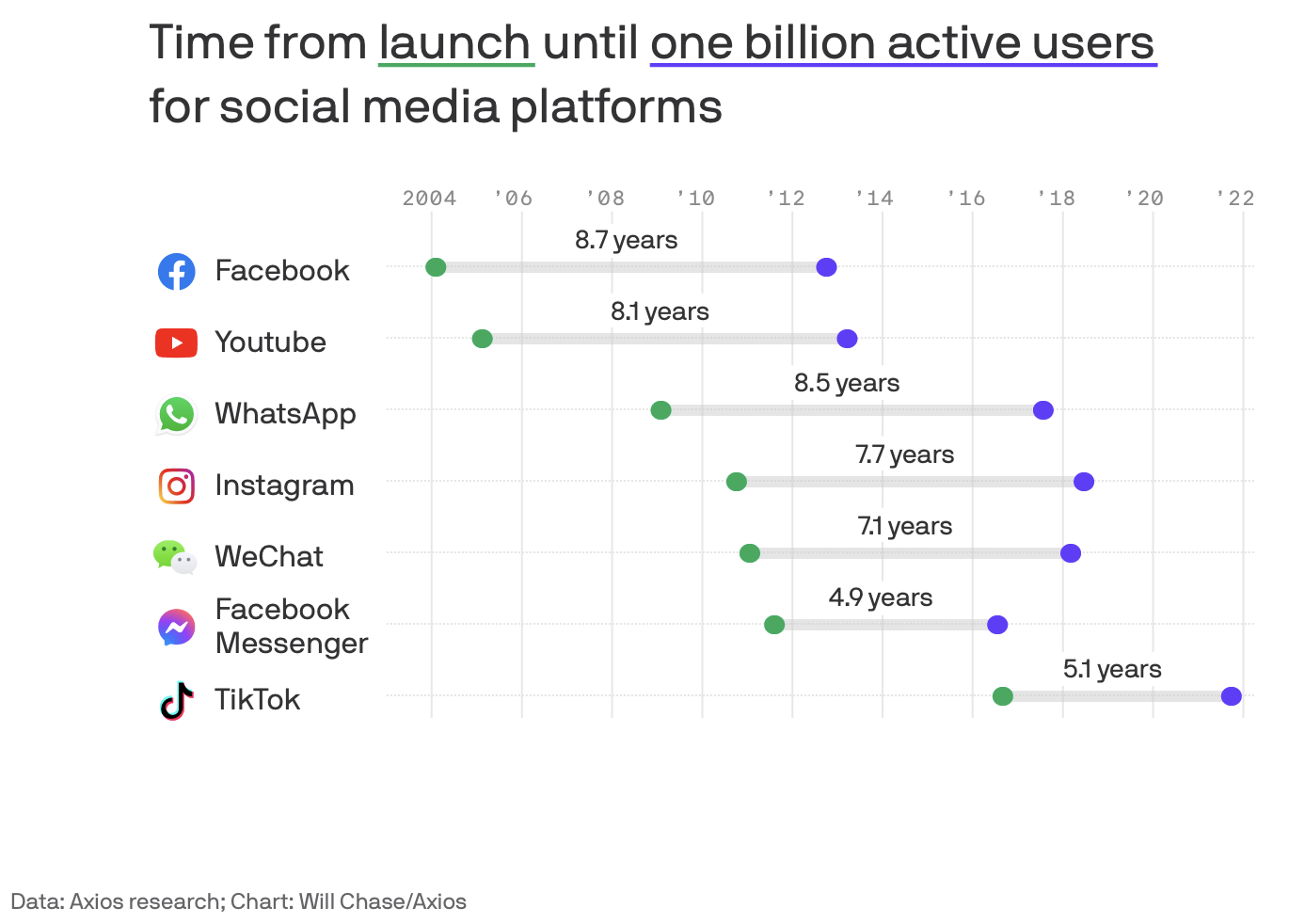 From launch to 1 billion active users, TikTok needed only 5.1 years. Only Facebook Messenger has beaten this time to 1 billion, and it had the benefit of registered Facebook users on its side. TikTok has changed quite a bit during its race to the top—both in public perception and usage.
From Music to Marketing
The initial purpose of TikTok was to share short lip-sync videos—content that has stood the test of time when we consider the most popular content types on TikTok today. After that, lip-syncing gave way to dancing, with viral dance crazes starting just about daily now. The popularity of those initial TikTok users could not be overlooked by brands, who began to create partnerships with these users that resulted in influencer content for the brands.
From Social to Advertising
At launch, TikTok offered no advertising opportunities for brands. In fact, for some time, brands couldn't even open verified accounts. Instead, they were relegated to "personal" profiles like anyone else. Influencers quickly discovered how to share marketing material on behalf of the brands they worked with, but advertising directly through the platform wasn't possible.
What a difference a few years makes. Today, some of the world's largest brands can be found on TikTok. Pepsi, BMW, Lysol, the NBA, the NFL, Netflix, and even The Washington Post have profiles and create their own content.
From Teens to Everyone
Perhaps the most significant change to TikTok has been its demographics. While TikTok is still hugely popular with Generation Z and even Generation Alpha—62% of users are aged 10 to 29—those numbers have shifted toward older audiences in recent months.
Recent numbers show that nearly 10% of users are between the ages of 55 and 64. Yes, your grandma might be on TikTok. Users between the ages of 45 and 54 make up nearly 15% of TikTok subscribers. Older Millennials are also flocking to the app, with over 18% signing up. And, while the numbers might seem negligible from a marketing standpoint, for now, 3.5% of users are over the age of 65.
From Entertainment to Money Maker
While the primary purpose of TikTok remains entertainment, it's no secret that it's a real money maker. While the increase in spending may in part stem from increased use during pandemic lockdowns and the changing user demographics, the fact remains that Tik Tok has earned more than $450 million on ad sales over the course of the app's life.
In addition, brands and influencers also earned more than $1 billion through ads and sponsored posts on the app in 2020 alone.
If you haven't yet considered TikTok as part of your social media strategy, now might be a great time to start.