In an increasingly crowded food and beverage industry, finding fresh ways to communicate your brand message can set you apart. But often it seems like every good idea has already been used. And while that might be true, revisiting old ideas with a fresh approach can jumpstart your food & beverage marketing to better engage your audience.    
Tell Your Story…Your Way
An "About Us" page is essential to your brand, as are the bio sections on your social media platforms. This is where you tell your own unique story to your target audience.
Make sure to personalize your brand story by talking about the inspiration around how the business got started. But don't stop there. Talk about the founder's story if appropriate, and how the influences in their life led them to create the product or service you're marketing today.
Another thought – instead of following the typical "About Us" formula: Introduction, history, paragraph, paragraph, conclusion, etc. – try taking a different approach.  For example, take a look at the Kind Snacks story.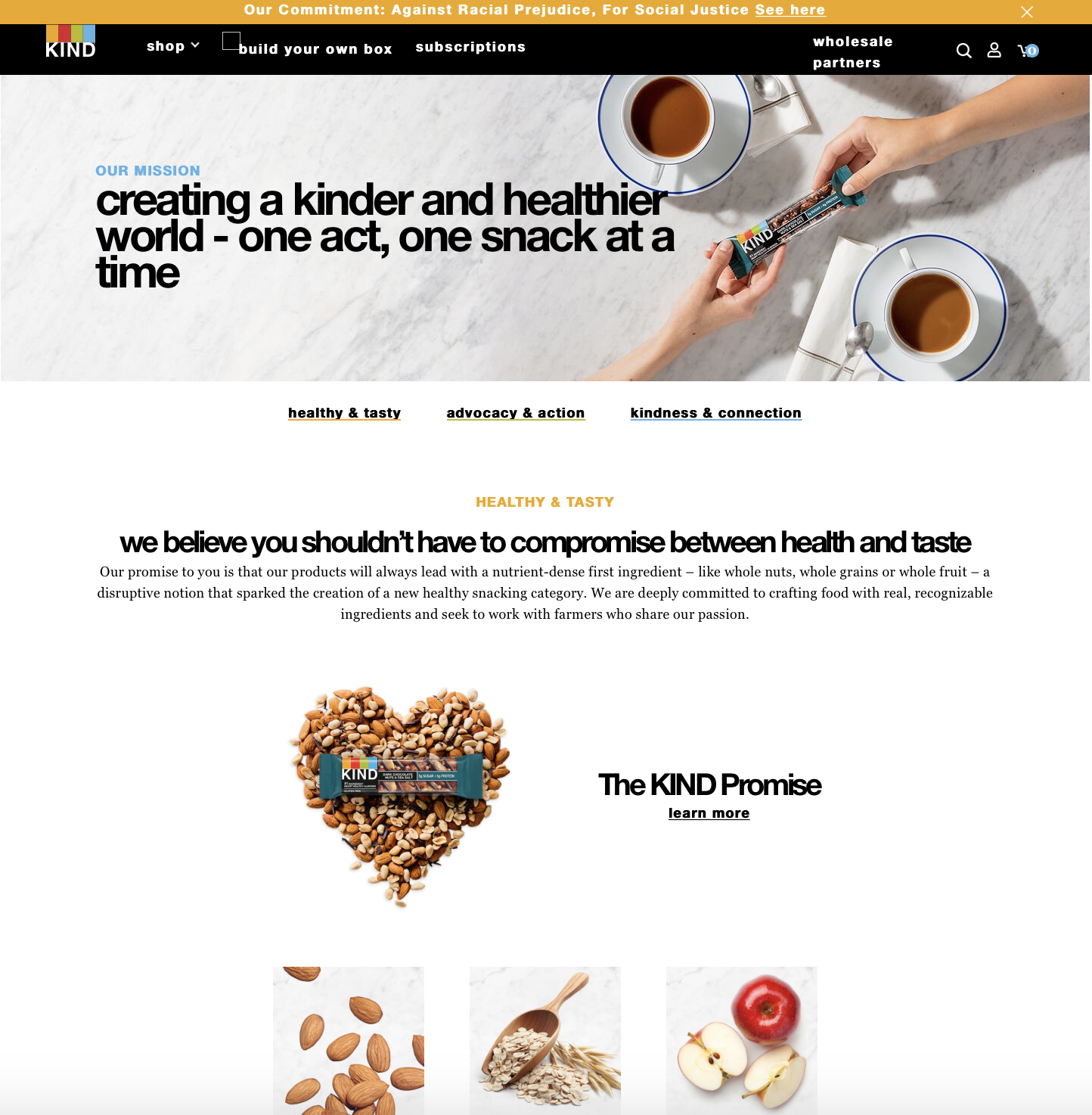 Instead of hefty paragraphs that overwhelm the reader, Kind Snacks created a "Choose Your Own Adventure" About Us page that allows consumers to seek out the most relevant information.
When your potential customers read about you, you should be speaking in your brand voice. The words you choose, the tone you set, and the transparency you provide with every word help buyers feel they already know you. The written word can do that for your food & beverage marketing, but a video of your founder speaking can be even more impactful.
Check out the About Us page for Cuvée Coffee. The introduction sets the tone, and the video with the founder solidifies it.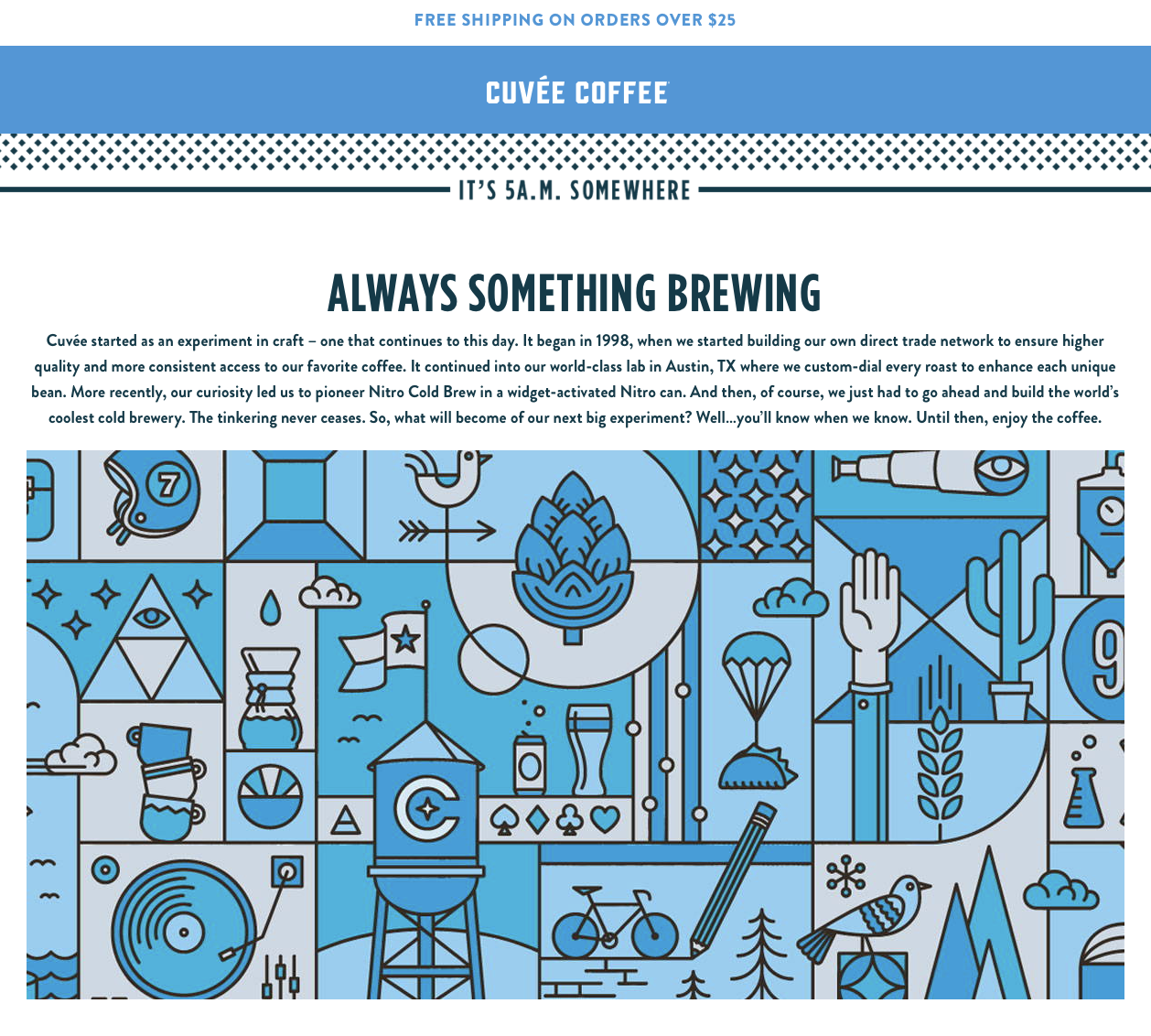 Other things to think about when creating your story:
Be authentic. Use language that gives your story character. Find something in your story that connects to the people who read it. Do this by truly understanding the wants, needs, and pain points of your target audience.
Think about your product. What makes it unique? Do you use special ingredients? Maybe you sell the best tea and want people to know what happens from the time that tiny tea leaf sprouts up to when they take their first sip. Take your audience on a journey that sets your brand apart.
Today's consumers are concerned with transparency. They care about the effect these ingredients have on their health and how ingredients are responsibly sourced. Show where you source your ingredients. Provide details around the materials you use in your products to give consumers peace of mind and help them become more comfortable with your brand.
Social Media Engagement
Over 84% of marketers find food & beverage marketing success driving website traffic by focusing on making their social media pages unique. You can have all the content in the world on your website, but without social media driving traffic to the site, you won't be able to convince and convert your target audience.
Online reviews are a powerful way for your prospects to hear directly from your die-hard fans. Because those potential buyers are more likely to trust other customers over what you have to say, it's a win-win for both consumers and marketers.
Also, use your social platforms to encourage user-generated content (UGC). Taco Bell is one of the most successful brands at highlighting UGC, with 1.3 million Instagram followers, 2 million Twitter followers, and 93,000 YouTube subscribers. They interact heavily with fans and have a content hub to display fan blogs, posts, pictures, and videos.
One Taco Bell campaign (#TacoEmojiEngine), involved 600 premade gifs that showed mashups of emojis representing Taco Bell products mixed with various other emojis (such as a taco and a sunglasses face). It also opened "The Bell" hotel, inviting influencers to stay and check out new Taco Bell products posted to their own social media accounts. The brand has also created a YouTube series called "What the Bell Happened," highlighting unique and engaging stories about the brand.
You don't have to open a hotel or create a YouTube series to use social media to share and build your brand story. Decide what story you want to tell, and then tell that story creatively.
Content Marketing
According to CMI, 72% of marketers report that content marketing increases engagement and leads. Once you're driving traffic to your website, keep the party going once your audience gets there.
A blog can be an excellent way to keep consumers engaged with your brand, providing the opportunity to engage with longer-form content.  Look for opportunities to incorporate and publish videos, memes, animation, and infographics in addition to blog posts.
Find the brand story worth telling, and leverage it on your social media platforms to invite your audience into your story. Then give them more information on your website, and encourage them to subscribe to continue receiving content. This process helps create and build a relationship with your consumers that will have a lasting impact on your business.
There are unlimited opportunities to market your food and beverage brand. If you'd like help getting creative with your food & beverage marketing, give us a call.