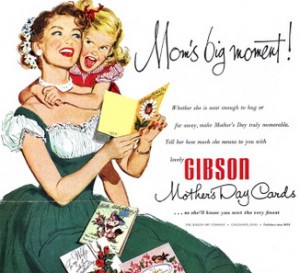 Although it was celebrated during Greek times, Mother's Day didn't become official till 1907. Today, nearly 83 million Moms in the U.S. will find themselves celebrated with some form of Mother's Day tribute.  This year Mother's Day will find competing brands marketing to moms with a myriad of social media campaigns, including the ones noted below:
"The Pearl of Wisdom Mother's Day"
Aren't all Moms full of pearls of wisdom? In support of cervical cancer prevention, Moms can be honored with a personal tribute and receive a free Pearl of Wisdom pin along with a Mother's Day card. The card contains information about cervical cancer prevention and a link so that she and her entire family can see the tribute.
"Midlife Mother's Day 2010 Campaign"
If you're an older Mom, you can share your experiences of motherhood after 40. The Midlife Mother's Day 2010 Campaign is looking for portrait stories of older mothers.
"Daughters of Beauty Campaign for Elizabeth Arden"
Elizabeth Arden is inviting moms and daughters to talk about beauty and aging, with winners receiving an Elizabeth Arden spa day. The site includes photos of Mothers and Daughters, along with their personal stories.
"America's Favorite Mom"
Telefora is launching a Mother's Day campaign with NBC and Hearst called "America's Favorite Mom." Simply upload videos, photos and essay testimonials and vote for your nominees.  Fifteen finalists will be celebrated on the Today Show with the winner receiving an 18-carat gold "America's Favorite Mom" pendant encrusted with diamonds.
"Give Mom an iPod with a Personal Message"
Although not technically a social media campaign, Apple is promoting the iPod touch as a 2010 Mother's Day gift.